White Nationalists Storm Washington Bookstore Reading: 'This Land Is Our Land
A small group of white nationalists stormed a book store in Washington D.C. to protest an event for a book on racial politics and how it's impacting lower- and middle-class white Americans.
The group stormed the Politics and Prose bookstore on Saturday afternoon, interrupting a scheduled talk by Jonathan Metzl, a professor of sociology and psychiatry at Vanderbilt University who released his book "Dying of Whiteness: How the Politics of Racial Resentment Is Killing America's Heartland" this spring.
Videos filmed by those in attendance showed the group standing in a line before the audience chanting, "this land is our land." At least one man was yelling into a megaphone while people in the bookstore booed him.
The group identified themselves as "identitarians," a far-right white nationalist group which is linked to Identity Evropa, which the Southern Poverty Law Center lists as an extremist group.
Embedded video
Catherine Wigginton
@cewigginton
So this bullshit just went down today at Politics & Prose. White nationalists disrupting @JonathanMetzl talk on his book Dying of Whiteness. Point made. @PM_Learn
4,241
2:46 AM – Apr 28, 2019
4,001 people are talking about this
Twitter Ads info and privacy
The unidentified man with the megaphone continued talking as the audience booed.
"But we, as nationalists and identitarians, can offer the workers of this country a homeland, their birthright, in addition to health care, good jobs and so forth," he said, before leading the group in a chant.
Catherine Wigginton, who tweeted a video of the brief chaos, said she was "impressed" with how Metzl handled the interruption.
"Does anyone want to process that before I get back to what I was saying," she tweeted, recalling his reaction after the white nationalists left.
Metzl, who is also the director for Vanderbilt's Center for Medicine, Health and Society, was speaking at the bookstore for an Independent Bookstore Day event.
Embedded video
Katy Cain
@KatyCain526
A band of "white nationalists" just interrupted a talk by @JonathanMetzl about his new book called "Dying of Whitness" at @PoliticsProse. @PoPville
606
1:02 AM – Apr 28, 2019
664 people are talking about this
Twitter Ads info and privacy
Catherine Wigginton
@cewigginton
Replying to @cewigginton
I'll add how impressed I was with @JonathanMetzl and his grace and poise after they left: "Does anyone want to process that before I get back to what I was saying?"
2,725
2:52 AM – Apr 28, 2019
Twitter Ads info and privacy
315 people are talking about this
The bookstore protest happened on the same day a 19-year-old white supremacist opened fire on a synagogue in Poway, California, before a Passover celebration, killing one woman and injuring three others, including one young girl.
Before the attack, the shooter posted an 8-page manifesto online boasting about his "European ancestry" and expressing his hatred of Jewish people.
The bookstore protest ended without injury or damage, the Washington Post reported.
View image on Twitter
View image on Twitter
Dave Straw
@StrawDave
Professor Metzl.
I thought you might like to see the image I took with my cell phone at this afternoon's event at Politics and Prose. Good luck on future events, may they be quiet and contemplative ! Dave Straw; my email is dave@davestraw.com
7
5:33 AM – Apr 28, 2019
See Dave Straw's other Tweets
Twitter Ads info and privacy
Metzl told NBC Washington that he was speaking to a man who had helped Metzl's father and grandfather flee Nazi Austria before the protest broke out.
"Not five minutes before, I had acknowledged him and said this is how great America can be when it is bold and generous," Metzl recalled to NBC.
He told the Post that the incident was "symbolic."
"It was very symbolic for me," he told the paper. "In case anybody's wondering what's happening right now, they're illustrating my point."
Pope Francis, Who Chided Trump's Border Wall, Gives $500,000 To Migrants In Mexico
Pope Francis, who has rebuked President Donald Trump for his hardline immigration stance, revealed this weekend that he's donated $500,000 in aid to migrants in Mexico who have sought a "better future in the United States" but have found the U.S. border "closed to them."
The Vatican said on Saturday that the Catholic leader's donation — taken from the coffers of Peter's Pence, the pope's charitable fund — would be distributed to 27 projects across Mexico and would be used to provide housing, food and other necessities to Central American migrants fleeing poverty and violence.
Many of these migrants, often accompanied by young children, have traveled thousands of miles "on foot and with makeshift vehicles from Honduras, El Salvador and Guatemala," the Vatican said in a press release.
"In 2018, six migrant caravans entered Mexico, for a total of 75,000 people … All these people were stranded, unable to enter the United States, without a home or livelihood," the release said.
Media coverage of the migrant crisis has been on the decline, the Vatican said, resulting in a concomitant decrease in aid for those who left their strife-torn countries for the U.S. but have been stranded in Mexico. This decline prompted the pope to act.
Francis' donation comes less than a month after he criticized Trump and other "builders of walls" who want to keep migrants out of their countries.
"Builders of walls, be they made of razor wire or bricks, will end up becoming prisoners of the walls they build," the pope told reporters on March 31 when asked to comment on a threat Trump had issued about closing the U.S.-Mexico border.
"I realize that with this problem of migration, a government has a hot potato in its hands, but it must be resolved differently, humanely, not with razor wire," Francis said.
In 2016, the pope suggested that Trump's desire to keep migrants out of America was un-Christian.
"A person who thinks only about building walls, wherever they may be, and not building bridges, is not Christian," he said, referring to Trump's planned immigration policies.
When I was fat, socialising was a struggle – but it was going out that helped me lose weight
used to be fat. (You still are, say the wags.) But I mean really fat. Shopping-at-specialist-internet-clothes-stores fat. Heckled-in-the-street fat. It wasn't fun, but it took years before I had the willpower, the courage or some combination of the two to do anything about it.
By the time I was 24, in 2008, the feeling that I had to lose weight had been growing for some time. It is impossible to identify one event that prompted me to take action. Was it preparing to change jobs for the first time? Was it the last photo taken of me and my grandpa, which I couldn't bear to look at? It was everything and nothing. All I knew was that my life didn't feel worth living if I didn't make a change.
Of course, not all fat people are unhappy or want to change, and the science around weight is very much contested. But, for me, it suddenly felt very urgent.
What I did wasn't complicated or revolutionary. It involved years of helpful amateur "advice", diet shows on TV and useful tips from gym-bunny friends. The idea was to eat less and exercise more – with a clear emphasis on the former.
I was incredibly disciplined about what I ate, buying healthy options and cooking in advance, and I went to the gym at least twice a week. It is not easy walking into a mirror-strewn room full of pumped-up people when you weigh more than 160kg (25 stone). But it was liberating to realise that those six-packed Adonises were far more interested in their own reflections than me huffing and puffing behind them. No matter how close you get to "the ideal body", insecurity lurks.
l of this will be familiar to anyone who has thought about losing weight. But that is not the change that mattered the most. It was my willingness to embrace a social life that had hitherto felt onerous, but which empowered me. I knew that being home alone was when my worst habits became irresistible. So, I decided to make sure it happened as rarely as possible. I booked out every night when I wasn't going to the gym with some social event or other. Being around people was meant to provide an insurance policy against my failure of willpower. But it was helpful in other ways that I had never imagined.
It wasn't easy, though. All my adult life, leaving the house had been fraught with anxiety. If you have never been fat, the idea that people in passing cars might shout at you in the street simply for being chubby may seem unlikely. It isn't. It happened to me a lot. And the excruciating embarrassment when it occurred in front of a friend was hard to bear. The forced: "Did you hear that?", "What did he say?" brought the elephant in the room crashing into view.
Then there was the worry about where we would go. Would I fit into the seat? Would it involve a tiring walk? What if a stranger decided to take the piss? I was by no means a hermit, but I would often stay in when I couldn't face the outside world.
But rather than terrorising me, going out became part of the solution. Nobody knew. The thought of sharing what I was doing was too scary. That soon became impossible. As the pounds fell off, people started to notice. But that was suddenly OK, because my confidence had increased, the comments occurred less often, and walking became a pleasure – it was exercise.
Relying on a social life to get through forced me to lean on friends in a way that I never had. Talking about myself gradually became easier. I was able to let people in, I was less spiky and my relationships improved. It wasn't easy, but I don't remember the difficulties of disciplined eating and social anxiety so much: it is the happy memories I made that have stuck.
Eighteen months later, half the weight I was before, it wasn't just physical weight that had been lifted from my shoulders. Going out for the night was no longer scary. I didn't need to plan any excursion to the nth degree to feel OK. Not all my worries disappeared, but a big chunk of them did – and it was a blessed relief.
"Adopt a strict diet and exercise more" is the usual advice for anyone who wants to lose weight. That can feel impossible – it did to me for a long time. But sometimes it is changing the smaller things that can help you get where you want to go. Positive change need not involve sacrifice or pain – sometimes it just means a trip to the pub with some mates.
Fracking tsar quits after six months and blames eco activists
The government's fracking tsar has quit the post after just six months, claiming policy relating to the controversial process means there is "no purpose" to her job.
Natascha Engel told the business secretary, Greg Clark, that developing the industry would be "an impossible task" despite its "enormous potential". In her resignation letter, she said environmental activists had been "highly successful" in encouraging the government to curb fracking.
Engel, a former Labour MP, wrote the letter following two weeks of protests by the Extinction Rebellion group, which brought parts of London to a standstill with demands to cut emissions to zero by 2025.
She wrote: "A perfectly viable and exciting new industry that could help meet our carbon reduction targets, make us energy secure and provide jobs in parts of the country that really need them is in danger of withering on the vine – not for any technical or safety reasons, but because of a political decision."
Engel complained that a traffic light system that halts fracking when a tremor with a magnitude of 0.5 is recorded "amounts to a de facto ban".
"The UK could be on the cusp of an energy revolution the like of which we have not seen since the discovery of North Sea oil and gas," she wrote.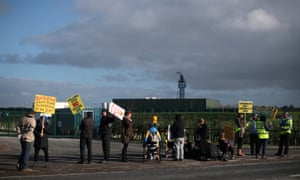 , she said, had the potential to create jobs, economic security and provide a cleaner alternative to coal and biomass.
Advertisement
Critics say the amount of water needed for fracking is damaging to the environment and claim it releases dangerous chemicals. They also say governments should focus on renewable energy.
Engel's resignation letter said: "The UK is currently spending £7bn a year on importing gas – money that is not being used to build schools, hospitals or fix the potholes in our roads. Developing our own shale gas industry would mean money going into the Treasury rather than out."
She added: "We know shale gas can be extracted safely. We have the best regulations and regulators in the world. We know the positive impact it has on local communities, but we are choosing to listen to a powerful environmental lobby campaigning against fracking rather than allowing science and evidence to guide our policy making."
She said "apart from its uniquely awful name" the process is "materially no different" from other methods of hydrocarbon extraction.
"We are listening to a small but loud environmental movement that opposes in principle all extraction of fossil fuels," Engel wrote. "The campaign against fracking has been highly successful in raising the profile and filling the coffers of some NGOs, but they do not represent local residents nor the wider population."
In a statement following her resignation, Engel said: "I hope there will be a rethink sooner rather than later which will see policy guided by science, rather than fear-mongering.
"There is much to be optimistic about how developing technologies – including fracking – can help us accelerate the reduction in CO2 and grow our economy. Sadly today only those who shout get heard."
At this critical time…
… we can't turn away from climate change. The Guardian's environmental coverage reports the scientific facts, social consequences and political choices that are shaping the fate of our planet. As the world's leaders turn their backs on the environment, we are at a crisis point. Individual consumer choices are important, but we need collective action to achieve the systemic change that will really make a difference. Our pioneering and our fearless reporting on the environment can play a vital role in that. But we need our readers' support.
More people are reading and supporting our independent, investigative reporting than ever before. And unlike many news organisations, we have chosen an approach that allows us to keep our journalism accessible to all, regardless of where they live or what they can afford.
The Guardian is editorially independent, meaning we set our own agenda. Our journalism is free from commercial bias and not influenced by billionaire owners, politicians or shareholders. No one edits our editor. No one steers our opinion. This is important as it enables us to give a voice to those less heard, challenge the powerful and hold them to account. It's what makes us different to so many others in the media, at a time when factual, honest reporting is critical.
Every contribution we receive from readers like you, big or small, goes directly into funding our journalism. This support enables us to keep working as we do – but we must maintain and build on it for every year to come.