Deputy On Leave After Video Shows Officers Slamming Teen's Head, Punching Him
A South Florida sheriff's office has placed a deputy on administrative leave after a video appeared to show officers pepper-spraying a teenager, tackling him to the ground, and one deputy slamming the teen's head on the ground and punching him.
The Broward County deputy faces calls for his firing as well as an investigation from state prosecutors following Thursday's incident. The county's mayor called the deputies' actions "outrageous and unacceptable."
"The officer who jumped the student, punched & banged his head should be fired," county Mayor Mark Bogen said in a tweet Friday. "I have a problem with the deputy who threw him to the ground after he pepper sprayed him. He could've easily arrested him after the spray."
In a statement obtained by HuffPost on Monday, Broward State Attorney Mike Satz said his office is investigating what happened.
"Our prosecutors and investigators had already scheduled a meeting for Tuesday with the attorney for the 15-year-old student. The student's family has hired a new attorney and we are arranging a meeting with the new lawyer as soon as they are available," Satz said.
Broward County Sheriff Gregory Tony, in a video statement on Friday, said his department is performing a full investigation and will review it "as a fact-finding measure to ensure that we find folks accountable."
The deputies were reportedly responding to a fight outside a McDonald's restaurant near J.P. Taravella High School in Coral Springs when the incident occurred.
One of the deputies stated in a police report obtained by the Sun Sentinel that they were surrounded and outnumbered by about 200 students who threatened them.
"I had to act quickly, fearing I would get stuck or having a student potentially grab weapons off of my belt or vest," one officer reportedly stated.
The officers' report described the 15-year-old who was filmed being slammed to the ground as taking an "aggressive stance" toward one of the deputies and refusing orders to back away as another boy was arrested on a trespassing charge. According to the officers' account, the deputy jumped on top of the teen after pepper-spraying him because the deputy said he feared for his safety.
The video appears to show the teen being pepper-sprayed and then walking away from the deputies with his back turned to them before an officer grabs him from behind.
The teenager was charged with assault, resisting arrest and trespassing, CBS Miami reported.
This story has been updated with a comment from the Broward State Attorney's office.
United Airlines Agent Accused Of Calling Black Customer A 'Monkey' Faces Charge
An employee of United Airlines accused of using a racial slur toward a black customer is facing a misdemeanor charge of disorderly conduct.
Houston police issued Carmella Davano a citation for disorderly conduct on Feb. 26, after United customer Cacilie Hughes alleged that the airline agent had called her a monkey ― a historically racist term when directed toward black people.
At her arraignment last month, Davano pleaded not guilty to the misdemeanor charge, which is punishable only by a fine, according to Jose Soto, a spokesperson for the Houston Municipal Courts. The airline agent requested a trial by jury, which is set for June, Soto told MagPost.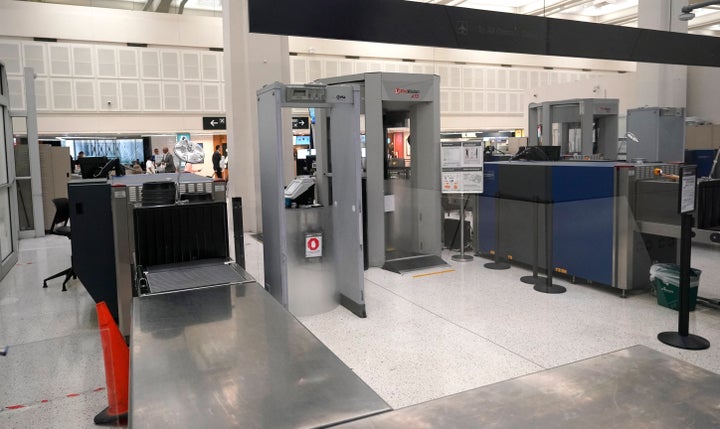 Hughes contends that Davano called her "a shining monkey" at the United terminal in Houston's George Bush Intercontinental Airport that day in February.
"I walked up to the woman, Carmella, and said, 'Hi, do you have a refund code available?' and she started yelling at me, calling me a monkey," Hughes told The New York Times. "I was humiliated, I was crying and I was the only black woman in the area."
Houston Police Department spokesman Victor Senties told the Associated Press that two witnesses backed up Hughes' allegation.
Davano had since been removed from service as United has investigated the matter, according to airline spokesperson Jonathan Guerin.
"At United, we believe that the diversity of our workforce makes us stronger. Together, we proudly hold ourselves to the highest standards of professionalism and have zero tolerance for discrimination of any kind," said a statement from the airline.
The statement continued, "This incident is deeply offensive and does not reflect the fundamental values of our company and our 90,000 employees. That is why we took immediate action to remove this individual from the job. Since then, we have been following all of the required procedures under this individual's union contract and are actively pursuing termination."
The company was embroiled in controversy two years ago after a viral video showed David Dao, a Kentucky physician, being violently dragged off a United plane by Chicago aviation security officers. Dao spoke publicly about his manhandling for the first time on "Good Morning America" earlier this month. He noted that he has forgiven the airline for the incident, although watching the video still brings him to tears.
United said in an April 9 statement to "Good Morning America" that the incident with Dao was a "defining moment" and that the company will "continue to learn from that experience."

Nipsey Hussle's Work In The Black Community Went Deeper Than You Think
When Los Angeles–based rapper Nipsey Hussle was shot and killed on March 31 at the age of 33, his death plunged people in his LA community, as well as others all over the world, into resounding grief.
It wasn't only that he was young and beloved or that he was a father of two who was in a relationship with actress Lauren London. Hussle (whose given name was Ermias Asghedom) was lauded through his life not just for his music but also for his service to the black community.
In the days after his death, there has been much talk about much he did for the black community in South LA, but most people didn't realize how far-reaching his activism and entrepreneurship were:He was in the beginning stages of addressing gun violence with the LAPDOn March 31, LA Police Commissioner Steve Soboroff revealed that Hussle had a scheduled meeting with the LAPD the day after his death to discuss gun violence in the city. Hussle, a former gang member, spoke openly about his experiences with gang culture and his desire to focus on "giving solutions and inspiration" to young black men like him.
He was revitalizing the community with new real estate developments
In a bid to bring black-owned businesses and jobs to his South LA neighborhood, Hussle reportedly spent several million dollars on a strip mall property on Crenshaw Boulevard and Slauson Avenue with several stores, including his "smart store" Marathon Clothing.
He had bigger plans in the world of real estate: In February he told Forbes that his goal was to work with black community leaders in other U.S. cities to create similar business and real estate hubs designed to benefit rather than push out the black community.
The plan was part of an initiative called Our Opportunity, co-founded by Hussle and led by his business partner Dave Gross.
He was one of the people behind Destination Crenshaw
In addition to the real estate and many businesses he owned, Hussle was an integral part of several other initiatives to revamp his neighborhood and honor the black community. He was an advocate for a project known as Destination Crenshaw, described as a 1.3-mile open-air museum. Designed as a cultural experience, the center, on Crenshaw Boulevard, will feature permanent and rotating art and design exhibits celebrating black history and culture.
He was a strong advocate for the project and, according to City Councilmember Marqueece Harris Dawson, was an integral part of the project's branding.
"Nipsey Hussle was in the earliest conversations about Destination Crenshaw," Dawson said in an interview with DnA after Hussle's death. "In fact, the very logo for the project that you see on all the materials and even the name of the logo was actually done by his team of graphic artists that work with the Marathon Store and they did that as a gift to Destination Crenshaw."
He was working on a film about Honduran healer 'Dr. Sebi'
In 2018, Hussle revealed that he was working on a documentary about Alfredo "Dr. Sebi" Bowman, an herbalist who made claims of curing serious diseases with holistic approaches and treated the likes of Michael Jackson and Lisa "Lefteye" Lopes. However dubious Bowman's approach, Hussle was a firm believer in the now-deceased healer's work and was planning an informational film exploring African herbal healing techniques. That project has sparked controversy, since not only has there been debate about Bowman but also some grieving fans and conspiracy theorists are suggesting Hussle's death is somehow connected to alleged government suppression of information about Bowman's techniques.
He was an advocate for STEM among black and brown kids
Hussle was an investor in Vector90, a technology space founded by Gross. The center is home to a community program called Too Big to Fail, which serves as a link between young people in the inner city and Silicon Valley. The aim: to train underrepresented and disenfranchised black and brown youths in STEM (science, technology, engineering and math) fields. Hussle and Gross reportedly had plans to expand the program across the country.
He invested in the education of young people
The rapper and entrepreneur famously invested in the 59th Street Elementary School in South LA, donating money to give a new pair of shoes to every student at the school as well as helping renovate its basketball courts and playgrounds.
"I remember being young and really having the best intentions and not being met on my efforts," Hussle told The Los Angeles Times in 2018 about his desire to invest in youths' education. "You're, like, 'I'm going to really lock into my goals and my passion and my talents' but you see no industry support. You see no structures or infrastructure built and you get a little frustrated."
On International Women's Day, Beverly Bond Breaks New Ground in D.C. with the 1st Black Girls Rock! Fest
In case you hadn't heard, it's Women's History Month—and what's more, this Friday is International Women's Day, a day that celebrates the rights, accomplishments and strength of women around the world. This year, celebrity DJ, author and Black Girls Rock! founder and CEO Beverly Bond is infusing that worldwide celebration with black girl magic as she partners with the Kennedy Center to launch the inaugural Black Girls Rock! Fest (BGR!Fest) from March 8 through 10 in Washington, D.C.
The three-day music and empowerment festival will feature rising artist Maimouna Youssef (a.k.a. Mumu Fresh), the legendary MC Lyte, Grammy-nominated singer-songwriter Jazmine Sullivan and more, billing itself as "an immersive live experience designed to celebrate the music and culture of Black women artists, thought leaders, and creatives."Outstream Video 00:0000:00
Ahead of the musical attractions, the BGR!Fest will kick off with a free-to-the-public Welcome Party on Friday night, featuring Lyte and Bond on the turntables. The weekend will also feature a series of panel discussions, including:
Girls Rock Tech, Leveling Up in Tech: Staking a Claim in the Future of Innovation, featuring Dr. Knatokie Ford, Dr. Quincy Brown, Afua Bruce, and Dr. Jamika Burge
Black Girl Magic featuring Jazmine Sullivan, Michaela angela Davis, and Eunique Jones Gibson
An intimate conversation with Beverly Bond and featured guests from her book Black Girls Rock!: Owning Our Magic. Rocking Our Truth
"It's a tremendous honor for us to collaborate with Black Girls Rock!," said Simone Eccleston, Director of Hip Hop Culture and Contemporary Music at the Kennedy Center. "It serves as such an important platform for centering and elevating the stories of Black women and we are thrilled to launch this transformative project and future endeavors with BGR founder and visionary Beverly Bond. This particular program deepens our commitment to celebrating Black women and their contributions and role in shaping American culture."
For Bond, the Black Girls Rock! Festival is the latest jewel to grace the black girl magical crown that is the growing BGR! empire. The event was inspired by the inaugural Rock Like a Girl! concert she produced with the Kennedy Center in 2016 (which will now close the BGR!Fest), and was created as a compliment to the highly anticipated annual Black Girls Rock! awards ceremony, televised on BET. Speaking with The Glow Up, Bond talked about the scope and significance of the BGR!Fest, and why black girl magic matters more than ever.
"You know, International Women's Day provided the perfect opportunity—the perfect weekend—to do something like this, so I'm really excited," she told us. "I'm excited about the partnership with the Kennedy Center; I think it's a great place to be, and a place that really elevates art. And also, for me, to be able to elevate black women artists who don't always get that same level of support from the [music] industry, so I think this is a really great platform for us to share our voices once again."
Bond points to Sullivan as an example. The insanely talented but almost criminally underrated vocalist will be in a well-deserved headlining spot for this weekend's festival.
"She's one of the most incredible artists out there, and she needs to have a space to be able to grow into the artist that she is," Bond noted. "We have created the spaces for our artists; we can't wait for other people to do it, or other people to endorse us."
Fed up with industry dictates that artists must be charting or formulaic to be worthy of audiences and listeners, Bond is launching the BGR!Fest as a platform to give voice to the diverse breadth of black women talents and narratives.
"Our story, our experience, everything that we have to give—we need a space to cultivate it," she said. "And so, for me, this just made the most sense in the world."
Collaborating with the Kennedy Center also made perfect sense to Bond. The success of Rock Like a Girl!, coupled with the revered institution's desire to make stronger connections with the black female artist community, made the partnership a natural fit.

"I am thrilled to be launching the BGR!Fest with the prestigious Kennedy Center, a true pillar of artistic excellence, and to expand the Black Girls Rock! brand to the nation's capital, home to one of the most vibrant communities of color in the country," Bond said in a statement. "This relationship furthers our mission to build platforms that advance black women's contributions to the world, and highlight how women of color use art as a tool to drive feminist thought, personal empowerment, and civic engagement."
Most important, the festival continues to elevate the Black Girls Rock! family of brands Bond has been evolving from a nonprofit into a multimedia empire since 2006. In addition to editing the 2018 anthology Black Girls Rock!: Owning Our Magic. Rocking Our Truth, in January, Bond debuted the Black Girl Magic! Hour podcast. She's already planning the second installment of the 2019 BGR!Fest for Newark, NJ in July.
In recognition of her initiative and influence, the multimedia maven has also garnered three 2019 NAACP Image Award nominations. But despite her wide reach and continued success, Bond remains humble about what she calls "bossing up" with Black Girls Rock!.
"You know, it's growing, and it's a wonderful thing to kind of do and witness at the same time," she laughed. "It's very cool."
The Glow Up tip: Want to attend the first Black Girls Rock! Fest this International Women's weekend in D.C.? Tickets are available the through Kennedy Center box office at (202) 467-4600, the Kennedy Center website, or through the Black Girls Rock! website.