Mossimo Giannulli Told Blog About Faking Enrollment At USC To Get Parents' Money
Mossimo Giannulli concocted a ruse at the University of Southern California long before the college admissions scandal, according to a 2016 interview he gave to The Hundreds fashion blog.
The fashion mogul, who's been accused with wife Lori Loughlin of paying $500,000 so their daughters could be admitted to USC by posing as crew athletes, apparently once scammed his parents out of tuition money while pretending to be enrolled at the same school back in the 1980s.
He falsified report cards and tuition bills so his father would hand over the money, according to The Hundreds, and then used the capital to fund an early T-shirt venture.
"SC was expensive, so that was how I was starting my company," Giannulli told the blog. "I used all that cash."
Giannulli lived at a fraternity, The Hundreds wrote, and CNN noted that he took some classes in 1984 in a non-degree program open to anyone with no formal admissions requirements and was a non-matriculating student.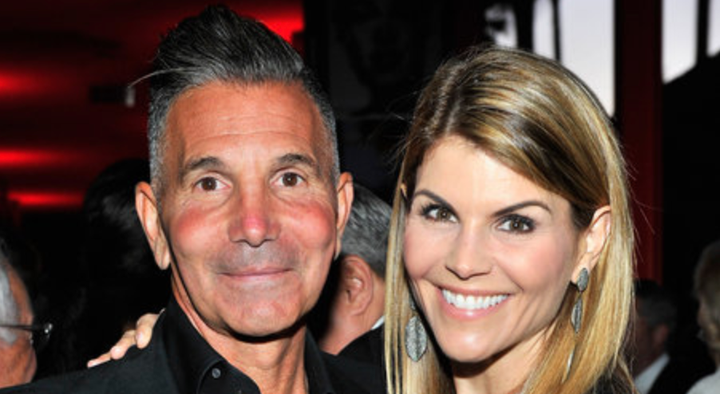 "I used to have hundreds of thousands of cash in my top drawer in my fraternity house," he told The Hundreds. "And I was like, 'this is kind of too easy. I need a bigger platform. If I had a bigger account base, I could really kill it…'"
Even one of Giannulli's daughters, social media influencer Olivia Jade, talked about his scheme in an interview before the college admissions scandal broke, the New York Post reported. She said her pop "was, like, never enrolled in college, he faked his way through it. … Then he started his whole business with tuition money that his parents thought was going to college."
Giannulli and Loughlin pleaded not guilty this week to charges stemming from the college admissions bribery investigation, which could potentially, though not likely, land them in prison for decades if they are convicted.
Duran Lantink, the man behind Janelle Monáe's vagina pants
You are probably already familiar with Duran Lantink's fashion designs, even if his name doesn't ring a bell. The Amsterdam-based fashion designer is the creator of the infamous vagina trousers worn by Janelle Monáe last year in her music video Pynk.
Despite becoming the most talked-about trousers – and cultural yardsticks of 2018 – the wavy pink pants almost never happened. Lantink was drafted in by the director – his best friend – five days before the shoot was scheduled to start, after the previous wardrobe team left the project. The rest, as they say, is music-video history.
But dismiss him as a shock-tactic attention seeker at your own liability as 32-year-old Lantink is one of the most highly regarded rising stars of his generation, thanks to his redefinition of luxury through a sustainable lens.
"It was a blessing and a curse because I always end up in the 'vagina pants' conversation," he laughs on the phone from Amsterdam, where he was born and is based, admitting to having had some strange email requests since. "But that's OK because it helped me get where I'm now. People are more conscious about what I am doing, which means I can tell a bigger story about creating sustainable collections."
For his eponymous brand, he uses designer overstock which he sources directly from charity shops and fashion houses. He then cuts them up – "collages", as he puts it – and sews them back together to create a unique piece of clothing from several brands. A typical piece of Duran Lantink clothing may contain a vintage Chanel skirt with pieces by Lanvin and a collar from Dior. "I started finding these beautiful and extraordinary pieces that didn't get sold, which I found very sad. So I thought: why not create a sustainable new collection from things that didn't get sold? I think it is good to create a circular collection with high-end overstock because there is a lot."
Currently on the shortlist for the 2019 LVMH Prize – the most prestigious award in the fashion industry – Lantink has a clear idea of what luxury is right now. "For me, it has always been the feeling that someone has really paid attention to your garment; that you are the only one in the world wearing it, and it's a special feeling. Creating unique pieces out of old stock is the new chic. You're saying: 'We won't buy into new materials any more, we only buy into things that have already existed.' To give something a longer existence is really interesting."
The phrase "sustainable" also needs a new definition, he says. "For a long time, it was a dull subject – people found it boring; the colours were off. For me, it needs to be playful and youthful with a fashion-forward look on it – not a different way of fashion, but taking it to another level."
Buyers like his process. Having already secured stockists including the world-famous Galleries Lafayette, people can't get enough of his avant garde designs – and that includes the designers whose clothes he has cut up. In the past, such flagrant reappropriation of another fashion house's product would have instigated lawsuits, but as the sustainable fashion movement is proving – and established houses are learning – it is important to support innovative new processes challenging the norm.f
"I was at the LVMH shortlist event and I ran into Jonathan Anderson, who knew I had cut up a piece of his knitwear. He was super-enthusiastic. He said it's so much better to do something new with it, otherwise it ends up in landfill. Humberto Leon from Kenzo was very positive about the approach, too. There are even a few brands who are offering me partnerships at the moment," he adds, without naming names.
This week, Lantink arrives in London for Fashion Revolution Week (FRW) to set up "a clinic" at 50M – the new concept retail shop in Belgravia, London, that supports emerging designers and is interested in new ways to achieve sustainable fashion. He will occupy the retailer's first designer residency, supported by the British Fashion Council in collaboration with Fashion Open Studio, which is a FRW initiative.
Advertisement
For the five-day pop-up, he will be offering 10 appointments during which customers can bring in old items, from which he will make two new outfits. "It's for people to bring in old pieces they don't wear any more, but which have a nice story. Or things they feel attached to, but which are broken. I create something new where there's this fresh feeling for their old garments. A lot of people need that at the moment, as they have huge closets, and they don't do anything with their old pieces – they are just hanging there."
"Fashion Open Studio is at the forefront of showcasing change, so we want emerging designers such as Duran to see us as an important part of their showcasing future," says Fashion Revolution's founder, Orsola de Castro. "It is incredibly important to challenge the status quo, and design new systems as well as sustainable collections. We know that the impact of the fashion industry – culturally, socially and environmentally – is massive, and if we want our clothes to reflect our principles, we need to instigate a generational change towards different practices because the present system is damaging."
For Lantink, the time is now. "People are finding that you can do playful and fashionable stuff with a sustainable approach and I think that's a revolution." This year, he looks likely to become known for a lot more than a pair of pink pants.
At this critical time…
… we can't turn away from climate change. The Guardian's environmental coverage reports the scientific facts, social consequences and political choices that are shaping the fate of our planet. As the world's leaders turn their backs on the environment, we are at a crisis point. Individual consumer choices are important, but we need collective action to achieve the systemic change that will really make a difference. Our pioneering and our fearless reporting on the environment can play a vital role in that. But we need our readers' support.
More people are reading and supporting our independent, investigative reporting than ever before. And unlike many news organisations, we have chosen an approach that allows us to keep our journalism accessible to all, regardless of where they live or what they can afford.
The Guardian is editorially independent, meaning we set our own agenda. Our journalism is free from commercial bias and not influenced by billionaire owners, politicians or shareholders. No one edits our editor. No one steers our opinion. This is important as it enables us to give a voice to those less heard, challenge the powerful and hold them to account. It's what makes us different to so many others in the media, at a time when factual, honest reporting is critical.
Every contribution we receive from readers like you, big or small, goes directly into funding our journalism. This support enables us to keep working as we do – but we must maintain and build on it for every year to come.
All made up: pared-down punk eyes
Cast aside the traditional smoky eye for a second and consider this option. It's an otherworldly but beautifully pared-down punk aesthetic, as seen at Dries van Noten SS19 (right). There's none of that blending a million shades together malarkey that takes a decade to achieve. No, this is quick and simple – a swipe of black pigment across the eyes, nude lips and makeup-free skin. Actually, ignore that last bit; fine if you're a supermodel, but the rest of us are better off cheating with a bit of tinted moisturiser.
1. Illamasqua Powder Eye Shadow in Obsidian £17, lookfantastic.com
2. Too Faced Peach Puff Matte Lip Color in Stoked £17, toofaced.com
3. Shiseido Controlled Chaos Mascara Ink in Black Pulse £25, johnlewis.com
4. Charlotte Tilbury Airbrush Flawless Finish £34, cultbeauty.com 
5. Kat Von D Cake Pencil in Trooper £17, debenhams.com
I can't do without… a base to rock beauty to its very foundations
'Is this a good foundation?' is a question I am constantly asked because the market is flooded with bases, many indistinguishable from the next. Brands are playing a tiresome one-upmanship game regarding wide shade range, which is fine, but not enough; the formulation also has to be on point. That's why I found this from Uoma Beauty interesting. The 51-shade range takes various undertones into consideration, but this is nothing new. The formulation, however, is. In fact, it is quite genius. Using the Fitzpatrick scale, which measures the skin's reaction to the sun, they have identified six 'skin kins' that everyone falls into: White Pearl, Fair Lady, Honey Honey, Bronze Venus, Brown Sugar and Black Pearl. All the foundations have then been infused with specific skincare ingredients. White Pearl – very fair skin – is commonly hypersensitive so micro algae extracts have been added to help reduce inflammation. At the other end of the spectrum, with Black Pearl (dark brown skin), the most common concern is dullness so tomato extract has been included to brighten skin. All the foundations include a 'biomimicry' pigment meaning the look of pores and lines is minimised and the end result is a fresh velvety matte as opposed to one that makes you look dead inside. Now that's what I call a good foundation.
Uoma Beauty Say What?! foundation, £29.50, selfridges.com
On my radar: nude makeup, flower power and a brilliant base
Dare to bare Violette, cool global beauty director for Estée Lauder, has created the Violette Oh Naturelle! nude makeup collection that speaks to all skin tones, with particularly divine lipsticks. From £26, esteelauder.co.uk
Floral dance If you have a thing for pretty graduated hues and floral scents, you'll love Jo Malone's Blossom Collection. Highlights include a new Silk Blossom Candle and a Frangipani Flower Cologne. From £44, jomalone.com
The eyes have it Eye creams don't tend to float my boat, but Ole Henriksen Banana Bright is different. It's thick but light, brightens and corrects, softens fine lines and creates a brilliant base for your concealer.
The Chic Octogenarian Behind Barbie's Best Looks
LOS ANGELES — Carol Spencer, 86, may be the most influential fashion designer you've never heard of.
In the mid-1960s, she made a red pencil skirt with a white sleeveless blouse that had red stitching and three red buttons down the front. Short white gloves came with it. Thousands sold.
In the 1970s, well aware that the counterculture's loosening dress code and mores had made it to the mainstream, Ms. Spencer designed a red bandanna halter maxi-dress and a matching leisure shirt for men. Those designs were popular, too.
In the Nancy Reagan 1980s, Ms. Spencer aimed for high-end appeal, making a one-shouldered ball gown in blue jacquard with an organza flower at the nipped-in waist and a cape. One of Mrs. Reagan's go-to couturiers personally approved the gown to be sold under his name: "Oscar de la Renta for Barbie."
Ms. Spencer has made wedding dresses, saris, go-go boots and caftans. All in miniature. From 1963 to 1999, she was Barbie's fashion designer, a career celebrated in her new book, "Dressing Barbie" (HarperDesign).
Ms. Spencer also made her own clothes, and had an easy time working with the doll's famously unusual proportions, she said, because they weren't so far from her own. "I have shrunk but in those days, I was tall and skinny," she said. "I had a 16-inch waist and something on top, too, I sure did, but Barbie's legs were better than mine."
She was sitting in her dining room, wearing a blouse in a shade that can only be described as Barbie pink, with a Barbie brooch and a Barbie digital watch that legions of girls probably begged to get for Christmas in the 1990s.
It was a different body part that was most important for her job, Ms. Spencer said: "I have small hands." She set down the Barbie teacup filled with lemonade she had been clasping to show her fingers. They are small and jut out at angles from the joint, a disfiguration likely caused by years of grasping little needles and bottles of glue.
In creating a wardrobe for Barbie and the entourage (Skipper, Ken, Midge, Big Jim, Baby Sister Kelly, Cara, Stacey, Christie, P.J., Steffie and Miss America), Ms. Spencer was part of a team that has inspired the work of designers including Bob Mackie, Nicole Miller, Jeremy Scott and Jason Wu, who once said he played with Barbie dolls when he was a child.
For a Moschino fashion show in Milan in 2014, Mr. Scott had a Barbie waiting on front-row chairs and sent models down the runway in blond bouffants and pink skirt suits.
Last month, to celebrate the doll's 60th birthday, Mattel hosted a profusely pink Barbie bacchanal in New York City with Instagram-friendly Dream House backdrops, intended to draw in a new generation of fans who are too young to know that Barbie was the original influencer
5 Highlights From Barbie's Fashion Archive
12345
1. Ms. Spencer designed Ski Party Pink for Barbie in 1982. The sweater had Dolman sleeves and a cowl neck. In her ankle-strap high-heels, she was ready to hit the bars, not the slopes.
2. Released in 1979, this City Sophisticate outfit had a faux-fur-trimmed coat and skirt accented by a yellow soutache braid.
3. A Mattel employee accidentally ordered 2,500 yards of gold-and-white striped fabric, instead of 250 yards. Ms. Spencer's 1965 Country Club Dance fashions made use of the excess.
4. The 1992 Totally Hair Barbie was one of Mattel's best sellers. Ms. Spencer designed a Pucci-inspired mini.
5. Ms. Spencer wanted to create an "evening pajama" look for Barbie after Barbra Streisand wore a Scaasi version when accepting an Academy Award in 1969. Ms. Streisand's outfit was see-through, so Ms. Spencer made Barbie special panties.
Saving the Dune Buggy
Even since her retirement, Ms. Spencer has devoted her time to Barbie. Inducted in 2017 into the Women in Toys, Licensing & Entertainment Hall of Fame, she has spent her golden years attending Barbie collectors events, doing research and amassing artifacts.
For years she has worked on "Dressing Barbie," which is sized for a coffee table and subtitled "A Celebration of the Clothes That Made America's Favorite Fashion Doll, and the Incredible Woman Behind Them." Laurie Brookins, a writer and stylist, helped Ms. Spencer with the project.
The book combines styled vintage fashion photography with memoir. Born in 1932 and raised in Minneapolis, Ms. Spencer rejected the wife-and-mother path that prevailed in the American midcentury and instead made a career for herself. "I truly fell in love with Barbie the first moment I created her clothes and accessories," she writes in the book.
Barbie has been a go-to emblem of all that has ill-served girls and young women in American culture. Living in a world that is almost exclusively white, the doll has breasts that are disproportionately large compared with her hips, and her feet are contorted into a permanent "floint" (short for flexing your toes back as you point the rest of your foot).
Her hair seems to be bleached blond, never with dark (or gray) roots. At times she dressed the part of a doctor or politician but has seemedunable to hold down a job. And there's the place in Malibu. Does it come from a trust fund or Ken?
Editors' Picks
How to Throw a Casual, but Considered, Dinner Party at Home
'Will You Stay With Me Until I Die?'
Don't Call It Tex-Mex
"Dressing Barbie," the new book by Ms. Spencer.CreditEmily Berl for The New York Times
But Ms. Spencer would like to counterpunch the Barbie bashing. She points out the doll's humble origins, with her proportions modeled after paper dolls cut from newspapers. She also defends Barbie as a healthy alternative to video games; an engine of imagination for girls and boys, who can project onto a Barbie doll whoever they may wish to become.
"It's wholesome play," she said, as she pulled from a case one of the many hundreds of dolls in her home. This one was wearing a yellow chiffon-like pleated tunic with see-through pajama pants, inspired by the Arnold Scaasi transparent ensemble Barbra Streisand wore to the 1969 Oscars when she won a best actress award for "Funny Girl."
Ms. Spencer's house is filled with books like "Barbie: Her Life and Times" and "Dream Doll: the Ruth Handler Story," about Ms. Handler, who, with her husband, Elliot, and Harold Matson, founded Mattel in 1945. The Barbie fashion doll was released in 1959.
Over a cluttered desk are posters of Barbie, like one showing the same image of the original 1959 doll, displayed against four different bright backgrounds, à la Warhol. (It was made to celebrate Mattel's 35th Anniversary Barbie Festival, in 1994.)
Ms. Spencer is a scavenger for treasures in a toss-everything world. One day at the Mattel offices, then located in Hawthorne, Calif., she noticed someone was about to throw away an important piece of Barbie memorabilia.
"It was the prototype for Barbie's dune buggy," she said. "They were tossing it, and I said, 'Would you toss it my way?'"
She learned thrift as a child. "During World War II, things were scarce and I remember the family would get the Sunday paper," Ms Spencer said. "When they'd get through with it, they'd hand me the comic pages so that I could cut out the paper dolls."
She began to create paper fashion for these paper dolls. Soon she was making her own clothes. But being a fashion designer didn't seem like a realistic goal in those days, she recalled. "You could be a teacher, nurse, secretary or clerk," she said. "But wife and mother were the big ones."
She was engaged to a medical student but when she realized she was expected to work to help pay for education before quitting to be a "doctor's wife," she broke the engagement. Then she enrolled at the Minneapolis College of Art and Design, where she got a bachelor of fine arts with a focus on fashion design.I'd wear that: Some of the Barbie looks designed by Ms. Spencer, including the first of her designs that was accepted into the Barbie line, far right.CreditEmily Berl for The New York Times
In May 1955, as she was about to graduate, she received a telegram from New York letting her know that her application for a "guest editor" slot at Mademoiselle magazine had been approved. Instead of sticking around for her commencement ceremony, Ms. Spencer took her first plane trip and moved in to the Barbizon Hotel for Women, for a month.
During her time in New York, she attended a reception at the home of the cosmetics entrepreneur Helena Rubinstein, visited the recently opened United Nations, danced with West Point cadets at the St. Regis hotel and interviewed the designer Pauline Trigère in her studio.
Ms. Spencer was in the same class of Mademoiselle guest editors as Joan Didion. "It was about as far from Minneapolis as you could get," she writes.
She returned to her hometown to work, designing children's wear for Wonderalls Company and then moved to Milwaukee to become a "misses" sportswear designer.
In late 1962, Ms. Spencer spotted an advertisement in Women's Wear Daily. "A national manufacturer who leads its industry with annual sales in excess of $50 million seeks a cost-conscious fashion designer-stylist for its suburban Los Angeles facility."
She sent a résumé and heard nothing back. Still, sensing this mysterious job was her destiny, she and her aunt packed up their 1959 Ford Fairlane and drove across the country to California.
In April 1963, she saw an ad in the California Apparel News for the same job, and this time her application got a response. It was from Mattel, the toymaker already known for the postwar bombshell: Barbie.
Ms. Spencer went to the company headquarters for an interview and was asked to make a suite of outfits for this creature. She made a halter-top-and-boy-short bikini, a one-piece in the same shade of orange-pink. There was a cover-up and a wrap skirt. She got the job.
Pink Pills Nixed
At that time, Mattel made about 125 different outfits a year for Barbie, and the fashion department, run by Charlotte Johnson, could be cutthroat.
"Charlotte had a theory," Ms. Spencer said. "If you have four designers, you put them in four corners. And it was always competitive and you were pitching your product. Sometimes the competition was kind of dirty."
How so? She wouldn't say. "I'm out of it, I'm retired, I'm enjoying life, I'll put it that way," she said, and she took a sip of lemonade from her Barbie teacup.
Some of her early successes, all of which she has cataloged, included Country Club Dance (a white and gold striped gown), From Nine to Five (a midcalf blue dress with an embroidered vest and hair scarf) and Debutante Ball (an aqua satin gown with a fur stole).
Ms. Spencer took her cue from the culture around her. As the Jane Fonda aerobics craze of the 1980s took off, Barbie got a purple leotard and leg warmers. When NASA's space shuttle exploration was in full tilt, Barbie became an astronaut (albeit one in thigh-high boots and silver capes).A custom Barbie made to look like Ms. Spencer. It was made for Ms. Spencer to commemorate her retirement at the end of 1998.CreditEmily Berl for The New York Times
And there was inspiration from her own life as well. When she needed a biopsy on her breast, Ms. Spencer was transfixed by the white coats doctors wore. The biopsy was negative, but the fashion was positive. Guess who became, however briefly, a surgeon?
There were missteps too, like when she gave Dr. Barbie a case of pink pills without knowing that at that time pink pills were known to be methamphetamines. "Let me tell you, that caused quite a stir," she said. (Her faux pas was caught before Meth-Head Barbie made its way to children's dollhouses.)
There are hundreds and hundreds of designs that are Carol Spencer originals, with only a small portion bearing her name. Until the mid-1990s, Mattel didn't put designer names on Barbie's packaging.
But Ms. Spencer remembers each of her creations, and many of them are in her home, which her sister, Margaret, 88, will be moving into soon. But even though Ms. Spencer gets out less these days, and relies on a walker to take more than a few steps, she said she feels surrounded by good company.
"You're never alone when you have dinner at my house," she said. "Barbie is always with you."