2019 tech events calendar: Everything on deck from Apple, Google, Amazon and more
With CES 2019, the Detroit Auto Show, the Chicago Auto Show and the Sundance Film Festival all in the rearview mirror, this year's calendar of tech, automotive and cultural events are already well underway. Just like last year (you remember last year, right? The good and the bad), CNET will be covering news and announcements from every major show and event that happens from now until 2020, when it starts all over again with CES 2020.  
CanJam: New York 2019, Feb. 16-17
The "premier headphone audio show," is something for audio junkies to get excited about. There are several shows throughout the year and around the world, but they kick off in New York. Expect to hear about the "latest products and innovations in headphones and personal audio electronics in all price ranges."
See the 2019 show details

See CanJam 2018 coverage

---
Toy Fair 2019: New York, Feb. 16-19
All the coolest things we saw at Toy Fair 2018100 PHOTOS
Toys and tech go hand in hand these days and the Toy Fair gives us our first glimpses of how the pairing will take shape in the coming year. Last year it was pooping robot dogs and a party game with its own heart-rate monitor. This year, who knows? But CNET will be there to find out. 
See all of CNET's toy coverage

Here's everything we saw at Toy Fair 2018

---
Samsung Unpacked Galaxy S10 event: San Francisco, Feb. 20
Samsung unveiled a prototype of its forthcoming 5G phone in its booth at CES 2019. It also announced its Unpacked event in San Francisco on Feb. 20 and sent out the invite pictured above. While we don't know the full details yet, it's safe to say Samsung is planning to officially debut the Galaxy S10 (or three of them).
Galaxy S10 rumor roundup: Feb. 20 launch, Galaxy Buds, hole-punch camera, specs, features and price

The Galaxy S9 Plus is terrific, but wait a month until after the Galaxy S10 arrives

---
Mobile World Congress 2019: Barcelona, Feb. 25-28
If you've ever wondered why there are no major mobile announcements at CES every year, it's because of MWC. However, like CES this year, there is sure to be a lot of discussion about 5G. 
See all the preview coverage from MWC 2019 in Barcelona

Galaxy S9, 5G and more: Everything we learned at MWC 2018

---
CP+ 2019: Yokohama, Feb. 28 to March 3
CP+ is the most important show for camera and photo imaging for consumers and professionals — at least aside from Photokina, which won't happen again until May 2020. Cameras including Sony's A7 III, Fujifilm's X-H1 and Panasonic's GX9 were all launched around CP+, for example. If you've been waiting for a major camera or lens announcement or you simply love photo gear, you'll want to look for news just before and during this show.
---
Intl. Home + Housewares Show 2019: Chicago, March 2-5
There was no shortage of smart home news to come out of CES. But if you can't get enough of the latest in kitchen appliances, cooking gadgets, home design and other accessories, this Chicago show in March is one to watch. CNET will be there to bring you the latest in connected coffee makers and Instant Pot rivals. 
Read the details on this year's show

---
Geneva Motor Show, March 5-6
The appearance of the Toyota Gazoo Racing Concept at the 2018 Geneva show got us amped for a production Supra, which appeared at the Detroit Auto Show this year ready to end its two-decade hiatus. Can't wait to see what comes this year. 
Watch this: Toyota Supra ends a two-decade hiatus at the 2019 Detroit… 2:31
Read our ultimate gearhead bucket-list car show and event guide for 2019

2018 Geneva Motor Show: What did we see, what did we love?

---
SXSW 2019: Austin, March 8-17
Saying this conference down in Austin, Texas has become huge feels like a understatement with events dedicated to music, film, comedy, gaming and tech. 
Read CNET's coverage of SXSW 2019

Star Wars, Elon Musk and cheese: What I learned at SXSW 2018

---
Apple spring event?
You didn't miss anything: Apple hasn't made any official announcements for its 2019 events. However, it does typically hold three to four major ones throughout the year with the first falling sometimes — but not always! — in the March-to-April timeframe. Last year's was all about education and featured the launch of the 2018 9.7-inch iPad. For 2019, Apple may shift to entertainment and announce its long-rumored video streaming service. 
Read all the latest Apple event news and rumors

New iPad with optional Pencil: Everything Apple announced at its March 2018 event

---
New York Auto Show: April 17-18
The best part of the 2018 NY Auto Show? Most of the cars that debuted were actually headed to showroom floors including the overhauled 2019 Toyota RAV4 that stole the show. We're hoping for more of the same in 2019. 
Read CNET's coverage of the New York Auto Show

2018 New York Auto Show wrap-up: Lots of cars you can actually buy, and soon

---
Facebook F8 2019: April 30 to May 1
Spring is developer conference season and the social network gets things started. It promises to be filled with "networking opportunities, deep-dive sessions and product demos, all showcasing how technology can enable the best of what people can do together," wrote Ime Archibong, vice president of product partnerships, in a blog post (full story here). Of course, Facebook still needs to figure out how to deal with the ongoing fake news problem and the heavy-handed tactics that have damaged its reputation in the aftermath of the Cambridge Analytica scandal and the 2016 election. Oh, and there's the next Oculus VR headset, too.   
Everything Facebook announced on day one of F8 2018   

---
Google I/O 2019: May 7-9
The search giant announced the dates for its 2019 developers conference in a suitably Google way by posting a puzzle for developers on Twitter. To jog your memory, at last year's conference Google CEO Sundar Pichai unveiled Duplex, its uncanny artificial intelligence for Google Assistant users that could make appointments and reservations using a human voice complete with pauses, umms and ahhs.
The five best things from Google I/O 2018

---
Microsoft Build 2019
Watch this: Amazon's Alexa and Microsoft's Cortana can talk to each… 2:56
If you think Microsoft's developer conference is all about Windows, you haven't been paying attention. Much of the 2018's focus was on Microsoft's work on artificial intelligence (AI) systems, machine learning, edge-computing tools and the company's moves to integrate with other platforms including iOS, Android and Amazon Alexa. Dates haven't been announced, but expect it to be in early May. 
Read all the news to come out of Build 2018, day one   

---
Computex 2019: Taipei, May 28-June 1
Computex 2018: The weirdest gadgets at Asia's biggest tech show11 PHOTOS
The largest IT tradeshow in Asia, Computex is usually good for some interesting PC announcements the latest chip news and an abundance of crazy gadgets and accessories. 
Read all the news from Computex

All the best stuff we saw at Computex 2018

---
Apple WWDC 2019 (expected)
Here are the biggest iOS 12 features Apple announced at WWDC 201848 PHOTOS
Like the others, Apple's Worldwide Developer Conference has a heavy focus on its software and operating systems — MacOS, iOS, WatchOS, tvOS — as well as its HealthKit, ARKit and HomeKit platforms. But sometimes we also see new iPads or Macs at this event. There's no announced date yet, but WWDC 2018 was June 4-8.
Read our full coverage of WWDC

Apple's WWDC 2018 highlights little things adding up, especially in iOS 12

HomePod, iOS 11, iMac Pro: All the news from Apple WWDC 2017

---
E3 2019: Los Angeles, June 11-13
Three days of games, games, games and the hardware and accessories you use to play them. But with Sony sitting out 2019's show, it will be interesting to see what Bethesda, Ubisoft and console makers Microsoft and Nintendo have on deck — not to mention offshoots like the PC gaming show. 
See all E3 coverage on CNET
See all E3 coverage of GameSpot
The best and worst of E3 2018

---
Amazon Prime Day (expected)
Amazon hasn't confirmed that its big summer sale is returning for 2019, but we'd be shocked if it doesn't. The big mid-July sale typically features eye-popping discounts on the site's own Fire, Echo and Kindle products in addition to anything and everything Alexa-enabled. Amazon also slashes prices on all kinds of other things for the day (well, technically two days), basically giving you permission to buy things you didn't know you needed until they were $10 cheaper. It's like The Purge, but for online shopping.  
Here's where you'll find all the best Prime Day deals from CNET's editors. 

---
2019 Comic-Con: San Diego, July 18-21
Comic-Con 2018: Check out the booths on the show floor60 PHOTOS
There are comic-cons all year long around the world, but the San Diego show is the largest in North America attracting more than 130,000 attendees. While 2018 was sort of a laid-back show with no huge announcements, SDCC is celebrating its 50th anniversary this year, which could make for a news-packed show. By the way, Comic-Con 2019 attendee badges are sold out.
How Marvel and Game of Thrones will make Comic-Con 2019 truly epic

Read the latest news for the San Diego Comic-Con

---
Samsung Galaxy Note Unpacked event (rumored)
August is a generally a slow month for big tech news with one exception: Samsung's Galaxy Note announcement. Last year's Note 9 was a modest update, all things considered, which means the Note 10 could be a complete overhaul. We probably won't hear any significant rumors about it until we get past the Galaxy S10 announcements, though.  
Here's everything Samsung announced at its Galaxy Note 2018 event

Galaxy Note 9 review: Samsung's best 'everything' phone. But…

---
IFA 2019: Berlin, Sept. 6-11
IFA 2018: All the coolest tech we've seen so far42 PHOTOS
Held in Berlin every September, IFA is Europe's largest consumer-electronics trade show. Although many of the products announced never reach the US, there's still a lot that does come to market globally. And it kicks off a never-ending parade of consumer tech announcements for the fall (and holiday shopping season). 
Read all the latest news from IFA

Best of IFA 2018: 8K TV, an epic gaming throne, Google's new wearable OS and more

---
Frankfurt Motor Show, Sept. 10-11
Watch this: Frankfurt Motor Show 2017: Roadshow editors choose their… 2:23
Lots of sports cars, lots of hybrids and EVs and a healthy portion of concept cars make up most of what debuts in Frankfort. Unfortunately, there are several that will never be available in the States. 
Read all the news from the Frankfurt Motor Show

---
Apple September event (expected)
Apple's September event is the reason you should never buy a new iPhone in August. The culmination of months of iPhone rumors, speculation and leaks lead to the official unveiling of the company's top product in mid-September. A new Apple Watch is usually along for the ride as well.
Keep up with all the latest Apple event news

iPhone 11 rumors: Price, specs, features and everything else we know

---
Amazon September event?
Amazon Echo event: Pictures from Seattle32 PHOTOS
For the past couple of years, Amazon has overhauled its Alexa-powered product line in late September. We saw more than a dozen new and refreshed products in 2018. Will that happen again this year? We'll just have to wait and see.
From Echo speakers to a Basics microwave: Amazon's September 2018 Event

---
Microsoft October Surface event?
This is the one day of the year when Microsoft's PC hardware takes a backseat to its software. There's usually a new product announcement or an update to existing hardware in the summer, like 2018's Surface Go, but Microsoft often uses an October event to highlight more important devices. Will it do so again in 2019? Time will tell.
Here's everything that was announced at its 2018 Surface event

---
Google Pixel October event?
CNET
Again, this one isn't guaranteed, but expected: Google's annual fall hardware event normally drops in between Apple's two second-half events. Though leaks and rumors tend take the wind out of the announcements, Google always seems to have some surprises when it comes to its Android, Chrome and Google Assistant devices.
Read all the news from Google's October 2018 Pixel event

Pixel 3 review: The best Android phone of 2018

---
PDN Photo Plus Expo: New York, Oct. 24-26
Photo Plus is the largest photography and imaging show in North America with "20,000 professional photographers, photography enthusiasts, videographers, students and educators" in attendance. If you're into cameras, the accessories for them and how to use them better, put it on your calendar. 
---
Apple October event?
Apple often — but not always — wraps up its event year with announcements of consumer-focused products such as iPads and non-Pro laptops and desktops. In 2018, however, Apple leaned more toward creatives with the all-new MacBook Air, Mac Mini desktop and iPad Pro. The event typically hits at the end of October, giving us plenty of time for leaks and think pieces on where the company needs to go next. 
Read all of CNET's Apple event coverage

MacBook Air, Mac Mini and iPad Pro 2018: Everything Apple announced at its October 2018 event in Brooklyn

---
Samsung Developers Conference (expected)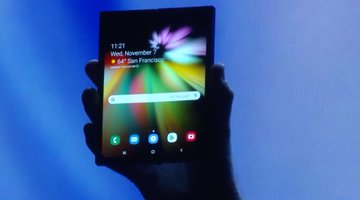 Away from the developer conference onslaught in spring, Samsung's November conference guarantees itself some time in the spotlight for its projects. In 2018, it was our first glimpse of its folding phone, a list of enhancements coming to its Bixby digital assistant and the announcement of One UI, a simplified interface for its mobile devices.
See all the news from Samsung Developer Conference 2018

---
Microsoft Ignite: Orlando, Nov. 4-8
Ignite covers what's coming next from the software giant for IT professionals and enterprise customers who want to know the "future of cloud, data, business intelligence, teamwork and productivity." It's heavy on the workshops and breakout sessions, but quite a bit of news comes out of the conference as well.
Pre-register for Ignite 2019 now
---
Los Angeles Auto Show: Nov. 18-21
Although it tends to lack a central focus, LA is one of the most important shows of the year. For example, in 2018, there were several big debuts across categories debuts like the Wrangler-based Jeep Gladiator pickup, the next Kia Soul, Mazda3, Porsche 911 and all-new Hyundai Palisade SUV.
Read all of our coverage from the LA Auto Show

2018 LA Auto Show wrap-up: Audi, Jeep Gladiator, Kia, Porsche and Rivian brought the heat

---
Earlier 2019 events
We're already past these big 2019 milestones.
CES 2019 (January)
All the cool new gadgets at CES 201985 PHOTOS
CES 2019: Everything we saw, from 8K TVs to amazing fake burgers

CES 2019: The four biggest trends, demystified

CES 2019: Our 10 favorite products of the show

CES 2019: Every CNET story
Sundance 2019 (January-February)
At Sundance's New Frontier, VR and AR go epic, weird and theatrical

Sundance Film Festival 2019: Complete coverage

Super Bowl 53 (February)
Best Super Bowl 2019 commercials ranked: Xbox, Avengers, Game of Thrones and more

Avengers, Captain Marvel, Toy Story 4: All the must-see Super Bowl 2019 trailers

CNET's complete Super Bowl coverage
Pope Francis, Who Chided Trump's Border Wall, Gives $500,000 To Migrants In Mexico
Pope Francis, who has rebuked President Donald Trump for his hardline immigration stance, revealed this weekend that he's donated $500,000 in aid to migrants in Mexico who have sought a "better future in the United States" but have found the U.S. border "closed to them."
The Vatican said on Saturday that the Catholic leader's donation — taken from the coffers of Peter's Pence, the pope's charitable fund — would be distributed to 27 projects across Mexico and would be used to provide housing, food and other necessities to Central American migrants fleeing poverty and violence.
Many of these migrants, often accompanied by young children, have traveled thousands of miles "on foot and with makeshift vehicles from Honduras, El Salvador and Guatemala," the Vatican said in a press release.
"In 2018, six migrant caravans entered Mexico, for a total of 75,000 people … All these people were stranded, unable to enter the United States, without a home or livelihood," the release said.
Media coverage of the migrant crisis has been on the decline, the Vatican said, resulting in a concomitant decrease in aid for those who left their strife-torn countries for the U.S. but have been stranded in Mexico. This decline prompted the pope to act.
Francis' donation comes less than a month after he criticized Trump and other "builders of walls" who want to keep migrants out of their countries.
"Builders of walls, be they made of razor wire or bricks, will end up becoming prisoners of the walls they build," the pope told reporters on March 31 when asked to comment on a threat Trump had issued about closing the U.S.-Mexico border.
"I realize that with this problem of migration, a government has a hot potato in its hands, but it must be resolved differently, humanely, not with razor wire," Francis said.
In 2016, the pope suggested that Trump's desire to keep migrants out of America was un-Christian.
"A person who thinks only about building walls, wherever they may be, and not building bridges, is not Christian," he said, referring to Trump's planned immigration policies.
When I was fat, socialising was a struggle – but it was going out that helped me lose weight
used to be fat. (You still are, say the wags.) But I mean really fat. Shopping-at-specialist-internet-clothes-stores fat. Heckled-in-the-street fat. It wasn't fun, but it took years before I had the willpower, the courage or some combination of the two to do anything about it.
By the time I was 24, in 2008, the feeling that I had to lose weight had been growing for some time. It is impossible to identify one event that prompted me to take action. Was it preparing to change jobs for the first time? Was it the last photo taken of me and my grandpa, which I couldn't bear to look at? It was everything and nothing. All I knew was that my life didn't feel worth living if I didn't make a change.
Of course, not all fat people are unhappy or want to change, and the science around weight is very much contested. But, for me, it suddenly felt very urgent.
What I did wasn't complicated or revolutionary. It involved years of helpful amateur "advice", diet shows on TV and useful tips from gym-bunny friends. The idea was to eat less and exercise more – with a clear emphasis on the former.
I was incredibly disciplined about what I ate, buying healthy options and cooking in advance, and I went to the gym at least twice a week. It is not easy walking into a mirror-strewn room full of pumped-up people when you weigh more than 160kg (25 stone). But it was liberating to realise that those six-packed Adonises were far more interested in their own reflections than me huffing and puffing behind them. No matter how close you get to "the ideal body", insecurity lurks.
l of this will be familiar to anyone who has thought about losing weight. But that is not the change that mattered the most. It was my willingness to embrace a social life that had hitherto felt onerous, but which empowered me. I knew that being home alone was when my worst habits became irresistible. So, I decided to make sure it happened as rarely as possible. I booked out every night when I wasn't going to the gym with some social event or other. Being around people was meant to provide an insurance policy against my failure of willpower. But it was helpful in other ways that I had never imagined.
It wasn't easy, though. All my adult life, leaving the house had been fraught with anxiety. If you have never been fat, the idea that people in passing cars might shout at you in the street simply for being chubby may seem unlikely. It isn't. It happened to me a lot. And the excruciating embarrassment when it occurred in front of a friend was hard to bear. The forced: "Did you hear that?", "What did he say?" brought the elephant in the room crashing into view.
Then there was the worry about where we would go. Would I fit into the seat? Would it involve a tiring walk? What if a stranger decided to take the piss? I was by no means a hermit, but I would often stay in when I couldn't face the outside world.
But rather than terrorising me, going out became part of the solution. Nobody knew. The thought of sharing what I was doing was too scary. That soon became impossible. As the pounds fell off, people started to notice. But that was suddenly OK, because my confidence had increased, the comments occurred less often, and walking became a pleasure – it was exercise.
Relying on a social life to get through forced me to lean on friends in a way that I never had. Talking about myself gradually became easier. I was able to let people in, I was less spiky and my relationships improved. It wasn't easy, but I don't remember the difficulties of disciplined eating and social anxiety so much: it is the happy memories I made that have stuck.
Eighteen months later, half the weight I was before, it wasn't just physical weight that had been lifted from my shoulders. Going out for the night was no longer scary. I didn't need to plan any excursion to the nth degree to feel OK. Not all my worries disappeared, but a big chunk of them did – and it was a blessed relief.
"Adopt a strict diet and exercise more" is the usual advice for anyone who wants to lose weight. That can feel impossible – it did to me for a long time. But sometimes it is changing the smaller things that can help you get where you want to go. Positive change need not involve sacrifice or pain – sometimes it just means a trip to the pub with some mates.
Fracking tsar quits after six months and blames eco activists
The government's fracking tsar has quit the post after just six months, claiming policy relating to the controversial process means there is "no purpose" to her job.
Natascha Engel told the business secretary, Greg Clark, that developing the industry would be "an impossible task" despite its "enormous potential". In her resignation letter, she said environmental activists had been "highly successful" in encouraging the government to curb fracking.
Engel, a former Labour MP, wrote the letter following two weeks of protests by the Extinction Rebellion group, which brought parts of London to a standstill with demands to cut emissions to zero by 2025.
She wrote: "A perfectly viable and exciting new industry that could help meet our carbon reduction targets, make us energy secure and provide jobs in parts of the country that really need them is in danger of withering on the vine – not for any technical or safety reasons, but because of a political decision."
Engel complained that a traffic light system that halts fracking when a tremor with a magnitude of 0.5 is recorded "amounts to a de facto ban".
"The UK could be on the cusp of an energy revolution the like of which we have not seen since the discovery of North Sea oil and gas," she wrote.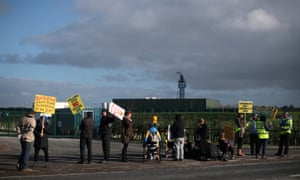 , she said, had the potential to create jobs, economic security and provide a cleaner alternative to coal and biomass.
Advertisement
Critics say the amount of water needed for fracking is damaging to the environment and claim it releases dangerous chemicals. They also say governments should focus on renewable energy.
Engel's resignation letter said: "The UK is currently spending £7bn a year on importing gas – money that is not being used to build schools, hospitals or fix the potholes in our roads. Developing our own shale gas industry would mean money going into the Treasury rather than out."
She added: "We know shale gas can be extracted safely. We have the best regulations and regulators in the world. We know the positive impact it has on local communities, but we are choosing to listen to a powerful environmental lobby campaigning against fracking rather than allowing science and evidence to guide our policy making."
She said "apart from its uniquely awful name" the process is "materially no different" from other methods of hydrocarbon extraction.
"We are listening to a small but loud environmental movement that opposes in principle all extraction of fossil fuels," Engel wrote. "The campaign against fracking has been highly successful in raising the profile and filling the coffers of some NGOs, but they do not represent local residents nor the wider population."
In a statement following her resignation, Engel said: "I hope there will be a rethink sooner rather than later which will see policy guided by science, rather than fear-mongering.
"There is much to be optimistic about how developing technologies – including fracking – can help us accelerate the reduction in CO2 and grow our economy. Sadly today only those who shout get heard."
At this critical time…
… we can't turn away from climate change. The Guardian's environmental coverage reports the scientific facts, social consequences and political choices that are shaping the fate of our planet. As the world's leaders turn their backs on the environment, we are at a crisis point. Individual consumer choices are important, but we need collective action to achieve the systemic change that will really make a difference. Our pioneering and our fearless reporting on the environment can play a vital role in that. But we need our readers' support.
More people are reading and supporting our independent, investigative reporting than ever before. And unlike many news organisations, we have chosen an approach that allows us to keep our journalism accessible to all, regardless of where they live or what they can afford.
The Guardian is editorially independent, meaning we set our own agenda. Our journalism is free from commercial bias and not influenced by billionaire owners, politicians or shareholders. No one edits our editor. No one steers our opinion. This is important as it enables us to give a voice to those less heard, challenge the powerful and hold them to account. It's what makes us different to so many others in the media, at a time when factual, honest reporting is critical.
Every contribution we receive from readers like you, big or small, goes directly into funding our journalism. This support enables us to keep working as we do – but we must maintain and build on it for every year to come.